How Can You Block an Indian Overseas Bank ATM Card? Debit cards and ATM cards are fantastic since they allow us to withdraw money and pay bills both online and offline. But what if we misplace the card? The card should therefore be blocked immediately to prevent illegal transactions. Follow this instructions to learn how to disable an IOB ATM card.
IOB ATM Block
The IOB's toll-free number is 1800 425 4445. Customers can call this toll-free hotline 24 hours a day, seven days a week, to get their debit card banned immediately. Only your registered cellphone number should be used to make the call.
IOB ATM Block Number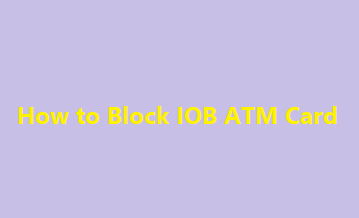 IOB ATM Block Tool Free Number
Ways for Disabling an Indian Overseas Bank ATM Card There are various online and offline options for blocking your lost or missing IOB Card. You may select any of them. Simply select a method and follow the instructions to get your card banned.
By Calling Customer Care
Contact Customer Service to Block an Indian Overseas Bank ATM Card:
Contact the IOB's customer service at 18004254445. (toll-free)
Make use of IVR options.
Choose the language with which you wish to communicate.
To ban the ATM card, select the IVR option.
Your call will be routed to one of the bank's customer service representatives.
Inform the executive that you have misplaced your card and wish to have it blocked.
Assist the executive in locating your card.
For verification purposes, the executive will ask you a few questions regarding your bank account.
If you answer the questions properly, your card will be blocked by the bank.
Using Internet Banking
How to Use Online Banking to Disable an Indian Overseas Bank ATM Card:
Visit the Indian Overseas Bank's official website.
Fill up your Login ID (username) and password.
Complete the captcha and then click the red login button.
Choose IOB Card.
Choose IOB Debit Cards from the internet banking interface's left sidebar.
Suspend Debit Card should be selected.
You will get a list of all the debit cards associated with your account.
Choose the card and press the Block button.
The bank will send you a confirmation SMS to your registered cellphone number.
By Visiting Home Branch
Steps for Blocking an Indian Overseas Bank ATM Card at a Home Branch:
Visit your local Indian Overseas Bank branch.
Have an identifying proof document with you at all times.
Talk with bank representatives and inform them that you wish to block your card.
Submit your credit card information.
Present the bank officials your identification proof paper.
The officials will assist you in promptly blocking the card.
Conclusion
These are the three techniques you may use to disable your lost or missing ATM card. Never give out your bank account information to anyone. And the bank will never call you to request such information.